The Coronavirus (2019-nCoV) outbreak started in Wuhan, China and it continues to spread to the world.
Your holiday is coming soon but do you have the following concerns because of the Coronavirus?
"Is it safe to travel to Thailand?"
"Should I cancel my trip?"
"Should I change my travel plans?"
I traveled to Pattaya in Thailand for 5 days with my husband at the beginning of February, 2020. So, let me share the latest information of Thailand from a tourist point of view.
Coronavirus: Is it safe to travel to Thailand? 3 reasons why we didn't cancel our trip
It seems like there are a lot of people worried about their holiday, so I decided to write this article to share our travel experience to those who don't know whether or not to cancel a trip.
My husband and I came back from Thailand 9 days ago (as of 13 February, 2020).
So far, we have no symptoms of the Novel Coronavirus (nCov), such as fever or cough.
As we didn't get infected, we could say that "it was safe to travel to Thailand" during this time (not 100% guaranteed though), but you must know how to protect yourself from the Coronavirus infection (explained later). 
No fear of the coronavirus? 3 biggest reasons why we didn't cancel our trip to Thailand
Before our trip to Thailand, we were wondering what to do with our trip because we had booked our flights and hotel with "non-refundable" plan (cheapest plan).
We checked news on the Coronavirus (nCov) everyday. The number of people infected with the coronavirus was growing everyday in Japan and in Thailand.
Here are the three main reasons why we didn't cancel our trip to Pattaya.
The number of the Coronavirus cases were similar in Japan and in Thailand at the time of travel
We were both young (in our 30s) with good health condition
It was a direct flight (between Japan and Thailand)
We had a little fear of the Coronavirus infection during our trip in Thailand, but we just thought maybe there was not so much difference even if we stayed in Japan.
Novel Coronavirus countermeasures of Japan Airlines (JAL)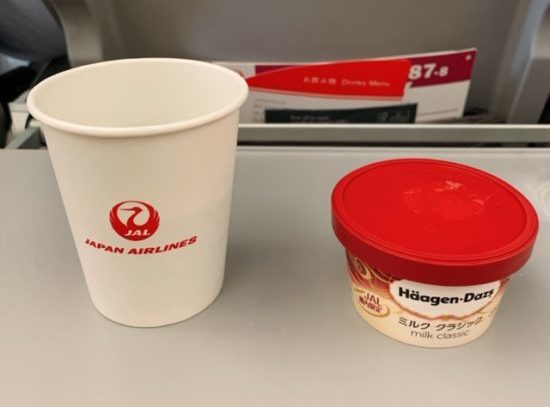 We flew with Japan Airlines between Nagoya (Japan) and Bangkok (Thailand).
During our flight, we experienced something different from usual.
Cabin crews were all wearing face masks and gloves during the flight.
It was informed to the passengers that this was a part of the New Coronavirus countermeasures.
We were also wearing face masks on our flight except for eating and drinking time as to protect ourselves from the virus infection.
I didn't expect lots of passengers on our flight but actually it was really packed! Almost full!!
Most of the passengers were Japanese and there were some South East Asians and Western people. We didn't notice if there were Chinese people or not.
You have to be careful at Bangkok Suvarnabhumi Airport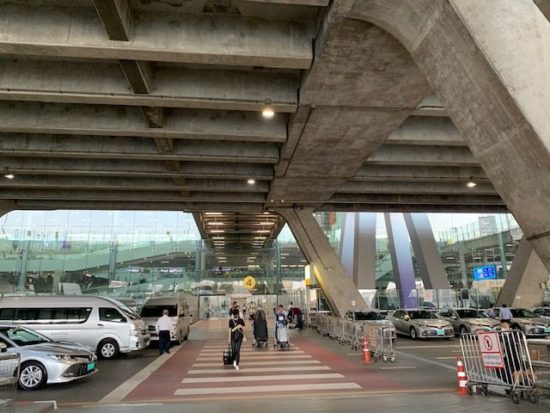 Bangkok International Airport (Suvarnabhumi) was crowded as usual.
As you can imagine, there were long queues at the passport control (immigration). Most of the immigration officers and people waiting in line were wearing face masks.
But, when your turn comes, you have to take off your face mask (to show your face to an immigration officer) for a few minutes.
This is scary enough, but while the officer is checking your passport, you have to register your fingerprints (including your thumbs) using a fingerprint scanner (by putting your hands on a glass plate).
The most shocking thing was that nobody cleans the scanners in between each person. It is highly likely that people would catch the virus!!
After you go through immigration, my advice is:
DO NOT touch your face till you wash your hands with soap
GO STRAIGHT to washroom and wash your hands thoroughly
Going through immigration was the most frightening moment during our Thailand trip.
We saw lots of Chinese tourists at Bangkok Airport, but they were all wearing face masks. No one was coughing, though.
Lots of flights had been canceled to/from mainland China
When we return to Japan, I checked departure information board at Suvarnabhumi Airport.
And I found out that many flights to mainland China had been canceled not only to Wuhan but also to other cities in China.
We saw lots of Chinese people in Pattaya, but considering the situation, the number of Chinese tourists should be much less than usual.
Transportation between Bangkok airport and Pattaya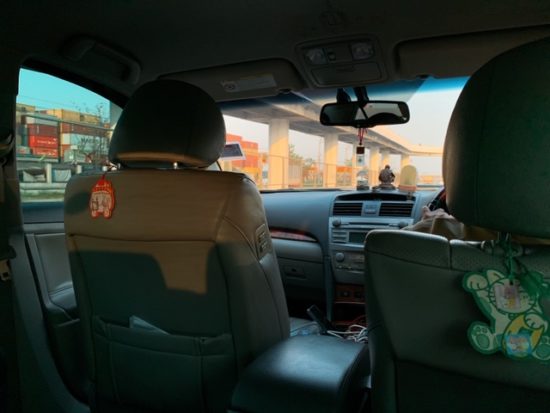 It takes about 1.5 to 2 hours to get to Pattaya from Bangkok airport.
You can go by bus, taxi, chartered car, etc.
We thought private airport transfer service was the best option (probably lowest risk of coronavirus infection as the car is exclusive to one group of customer), so we booked it on KLOOK.
The driver was nice and friendly!
The driver was not wearing a face mask, but we did just in case…
Preventative measures of Coronavirus at Amari Pattaya Hotel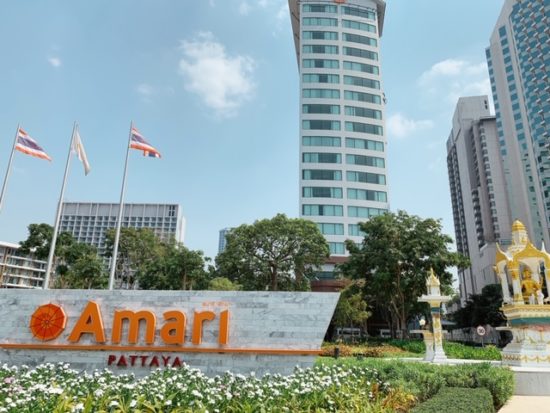 We stayed 3 nights at Amari Pattaya which is located in North Pattaya.
As a side note, Pattaya is famous for its seedy nightlife entertainment. But North Pattaya is far from the famous nightlife tourist spot called "Walking Street". It is nice and peaceful area.
As we entered our hotel, we were surprised to see staff at a reception!! None of them were wearing face masks!!
We saw lots of guests speaking in Chinese… Not sure where they are from. Maybe Taiwan? or mainland China? or other parts of the world (e.g. America, Australia)?
But there were other Asians and European guests as well.
Executive club lounge was nice and quiet
We stayed on the executive club floor, so we could access to a club lounge located on the 19th floor all day.
90% of the guests on the executive floor was Westerners. Asian guests were very few including us… I didn't hear any Chinese in the club lounge, so maybe there were no Chinese guests on the executive floor when we stayed there.
We enjoyed our breakfast in the club lounge two times during our stay (one time in the buffet restaurant on the 3rd floor). Compared to the restaurant on the 3rd floor, the lounge was more private. No fear of close contact at all in the club lounge.
Tips to avoid coronavirus infection: Be the first guest at a restaurant for breakfast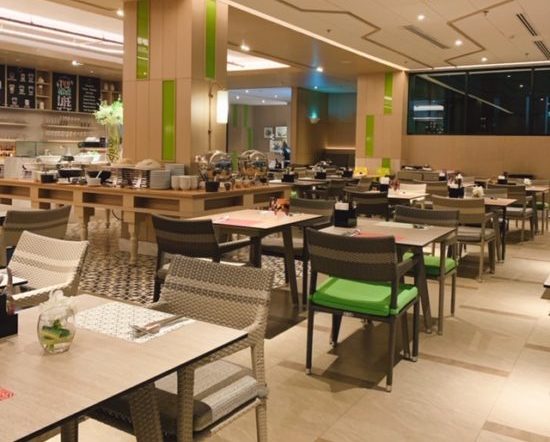 On the first morning, we checked the buffet restaurant for breakfast at around 8 am.
It was sooo packed and noisy!
We saw a few Westerners, but there were mostly Chinese guests in the restaurant.
As this restaurant serves different menu (more variety of food) from the club lounge, we wanted to try at least once.
So, on the following morning, we went to the restaurant at 6:30 to be the first guest (it opens at 6 am).
As we expected, no guests were around when we got there.
By the time we finish our breakfast, we saw some guests were coming into the restaurant.
We recommend you to be the first guest in a buffet restaurant because
You can avoid being infected via tongs which are used by random people
You can avoid close contact with other guests who might be sick
Latest situation: Is it safe to go to shopping malls in Pattaya, Thailand?
While we were staying in Pattaya, we went to two shopping malls in North Pattaya:
Terminal 21
Central Marina
Preventative measures of Coronavirus infection at Terminal 21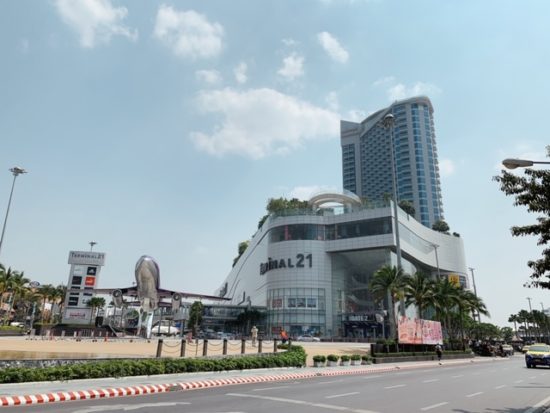 Terminal 21 is popular for tourists compared to the other shopping mall called Central Marina. Most customers and shop staff were wearing face masks in this shopping center.
Well, I mentioned earlier that you should avoid going to crowded place, but to be honest with you, we ate at a food court twice in this shopping mall. lol
People eating at the food court were mostly Europeans and locals. The food here were just AMAZING and super cheap (1 dish for 1-2 USD on average)!!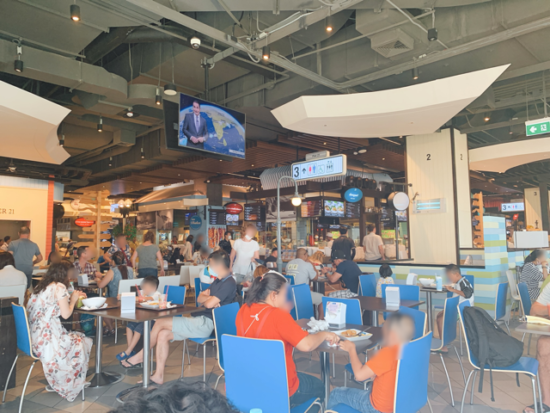 Novel Coronavirus countermeasure at Central Marina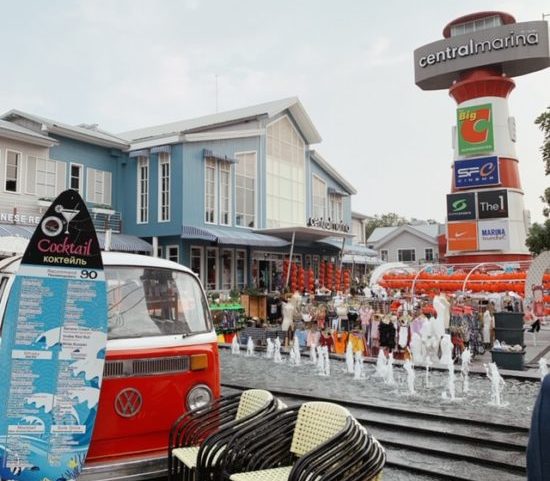 Compared to Terminal 21, not so many people were wearing face masks in this shopping center.
We saw Chinese tourists trying to buy lots of face masks here at this shopping center.
Face masks are out of stock (or super expensive) even in Japan. It's a serious social problem for us too.
Is Pattaya beach safe? Full of Chinese tourists?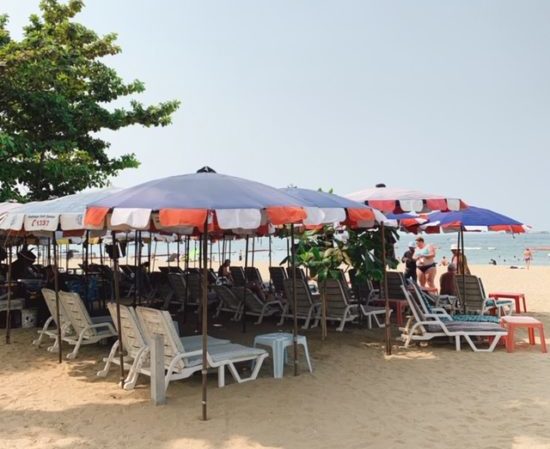 When we went down to Pattaya beach, we hardly saw any Aisan tourists other than us.
Western tourists were enjoying sun bathing on the beach, or enjoy swimming.
Is it safe to eat at local restaurants in Pattaya, Thailand?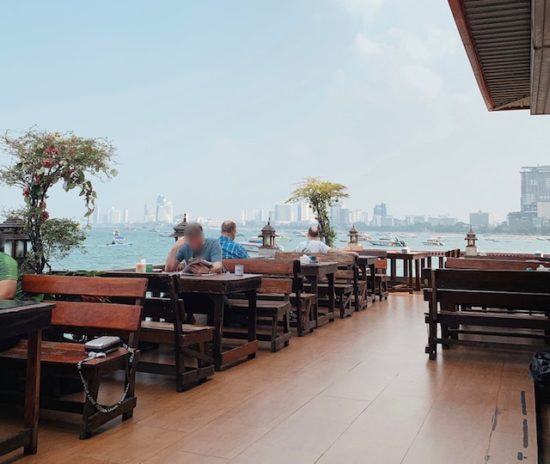 We had meals mostly at our hotel, but we ate at popular ocean front restaurant, Pattaya Beer Garden, located on Pattaya Beach.
According to reviews, this restaurant gets crowded at night (it's close to the "Walking Street").
When we had lunch at this restaurant, there were only a few customers. And most of the customers were Westerners.
The food here were so delicious and we also enjoyed nice sea breeze!
Is Thai massage dangerous? Any risk of coronavirus infection?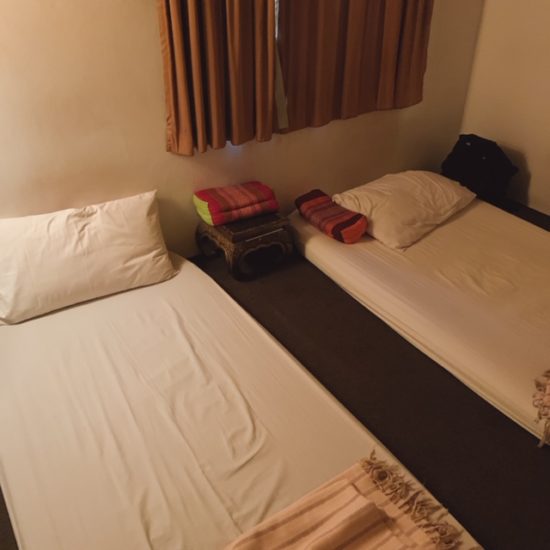 Last time I visited Thailand, I tried Thai body massage and I loved it so much!
So, I wanted to try it again with my husband this time.
We went to "Savanna Health Massage" to get body massage (300 baht [approx.10 USD] for 1 hour).
The massage therapists were not wearing masks nor were we.
When we were about to leave the massage place, 5 Chinese customers came into the shop. As soon as they enter the massage shop, all the massage therapists started wearing face masks…lol
Tips: How to protect yourself from the Coronavirus infection
During our trip, we did everything we could to protect ourselves from the Coronavirus infection. Actually, what we did to avoid the infection is not so much different from what we do to prevent the flu in the winter.
Here are the things we did to avoid catching the coronavirus.
Wear face masks in crowded places
Change face masks everyday
Wash hands thoroughly using a soap
Gargle after returning to hotel room or getting back home
Use alcohol wipes before eating
From my experience of this trip, I recommend you to take the following items with you. They are so useful!!
Face masks
Alcohol wipes
Hand sanitizer
WHO: Q&A on the Coronavirus
There are many fake information on the Coronavirus online. Please do not believe them!!
I found useful Question and Answer page on World Heath Organization website. So, I quoted some of the important questions and answers from the page for you.
How long is the incubation period?
The incubation period is the time between infection and the onset of clinical symptoms of disease. Current estimates of the incubation period range from 1-12.5 days with median estimates of 5-6 days. These estimates will be refined as more data become available. Based on information from other coronavirus diseases, such as MERS and SARS, the incubation period of 2019-nCoV could be up to 14 days. WHO recommends that the follow-up of contacts of confirmed cases is 14 days.

-WHO
It's been 9 days since we came back from Thailand. So far, we don't have any symptoms of the coronavirus infection.
I will update this article after we survive 14 days of the incubation period.
How does the virus spread?
The new coronavirus is a respiratory virus which spreads primarily through contact with an infected person through respiratory droplets generated when a person, for example, coughs or sneezes, or through droplets of saliva or discharge from the nose. It is important that everyone practice good respiratory hygiene. For example, sneeze or cough into a flexed elbow, or use a tissue and discard it immediately into a closed bin.  It is also very important for people to wash their hands regularly with either alcohol-based hand rub or soap and water.

– WHO
For more questions and answers, please visit WHO webpage.
The Novel Coronavirus cases by country (territory)
Here are the number of Coronavirus cases by county (territory) as of 13 February, 2020 (Reference: Worldometer).
China: 59,823
Japan: 251
Singapore: 58
Hong Kong: 53
Thailand: 33
Korea: 28
Malaysia: 19
Taiwan: 18
Germany: 16
Vietnam: 16
Australia: 15
USA: 14
France: 11
Macao: 10
U.K.: 9
U.A.E.: 8
Canada: 7
India: 5
Philippines: 3
Italy: 3
Russia: 2
Spain: 2
Cambodia: 1
Belgium: 1
Sweden: 1
Nepal: 1
Sri Lanka: 1
Finland: 1   
This statistics show that the New Coronavirus is spreading not only to Aisan countries but also to Europe, Oceania and America.
We enjoyed our Thailand trip this time without being anxious about the Coronavirus all the time. Hope you also enjoy your holiday wherever you go! Stay safe!